Conducting user research while part of small companies or bootstrapped startups often poses a challenge as you often have tighter resources than what big companies or agencies would allocate for research. However, this doesn't mean you can use this as an excuse to stay away from getting data from real users.
User research is the way for your team, regardless of its size, to better understand people's behaviours, perceptions and needs and make informed design decisions for their products based on data, so no matter how many resources you have, you can't afford to skip it!
I share below 3 low-cost techniques that I have used here at Mindiply during our initial assumption validation phase in order to make sure we build features that users need instead of just our team's wish-list.
1. The online feature request research: analyse your competitors' users
An important step before user research is market research. Conducting market research allows us to know the space and the people we are competing with. Start by identifying your main competitors, then pick the top 5 and dig deep into their blogs, social media, forums and online communities. Pay attention to the biggest complaints from their users: What doesn't work so well? What features do they lack? How many of their users are asking for these and why? Social listening techniques like these are powerful in uncovering what your competitors are lacking, therefore you will discover opportunities to delight users by offering a better product.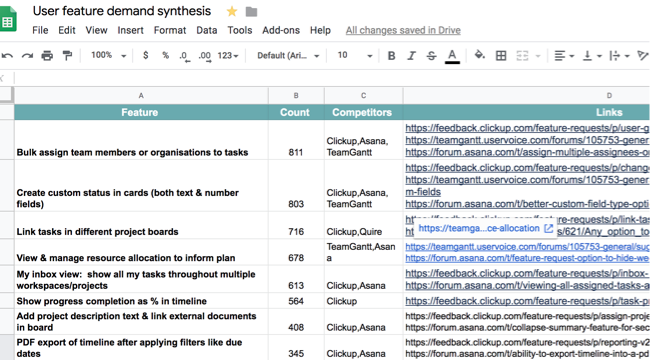 Make sure you keep your data organised & evidence supported for easy access in the future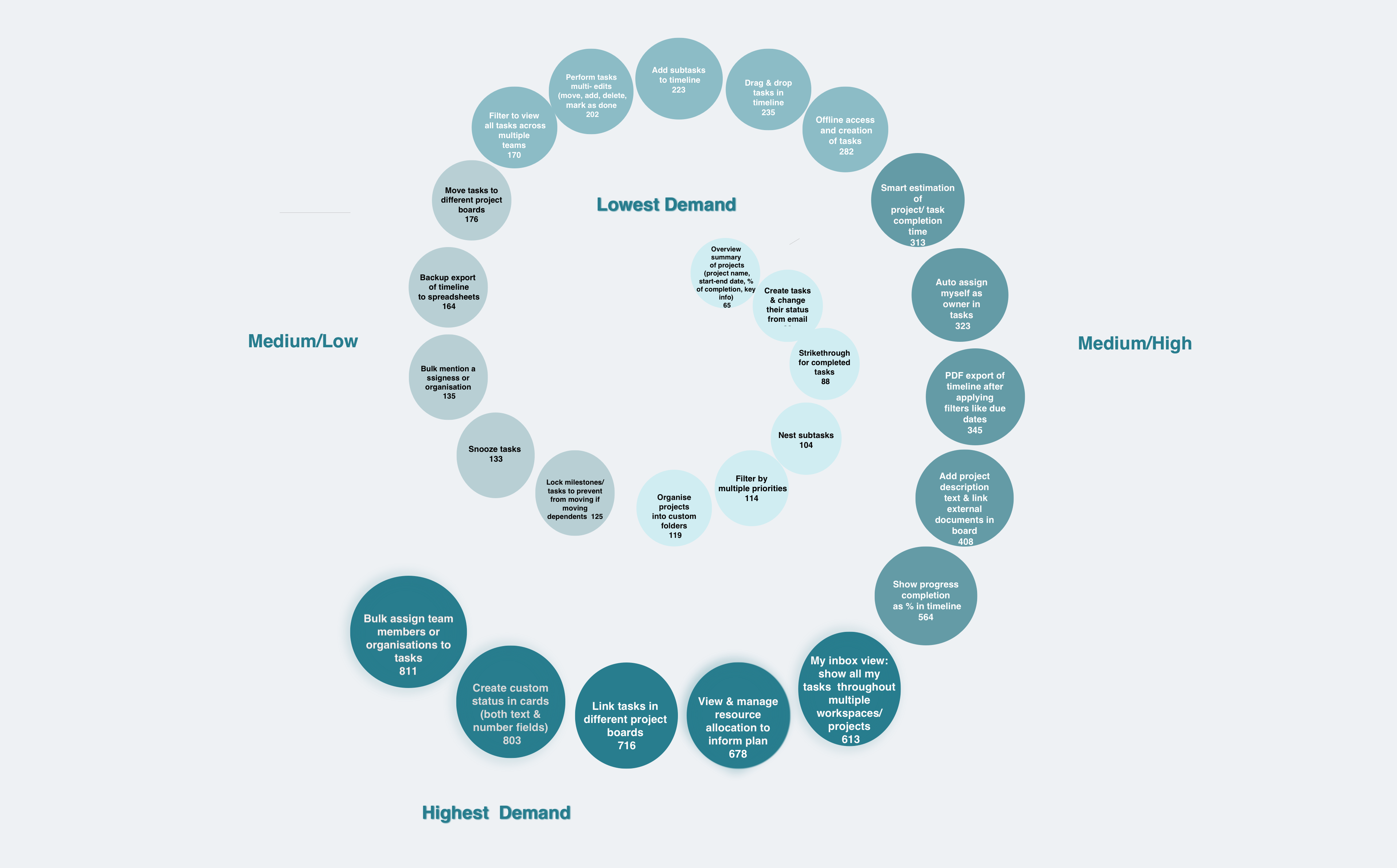 Visual presentations are more effective & memorable than long sheets.Present them or print & hang them in your product room to keep the team on the loop
The gist
Method: Analyse competitors users' feature demands
Channel: You competitors social media platforms, blogs and user forums & online communities
Tools: Spreadsheets, Presentation tool of your choice.
Budget: £0
2. The unofficial focus groups: go to events your potential users are & learn their opinions
Conducting research through focus groups is often an expensive activity. Most user recruitment agencies charge a hefty price to source participants and it becomes extra challenging if you want to speak to professionals of a higher rank or people using specific work tools.
But there is a walkaround. Be proactive and go to events, conferences, meetups or organisations where your potential users are. If you are working on a B2C product you will have a bigger pool to draw from. In our case, as we are building a project management tool, industry events & public talks tailored to project managers proved the most useful. I had the opportunity to hear & discuss with people about their everyday challenges and discover a whole set of problems and blocks they are trying to tackle. Although they are not official workshops it doesn't mean they are less effective.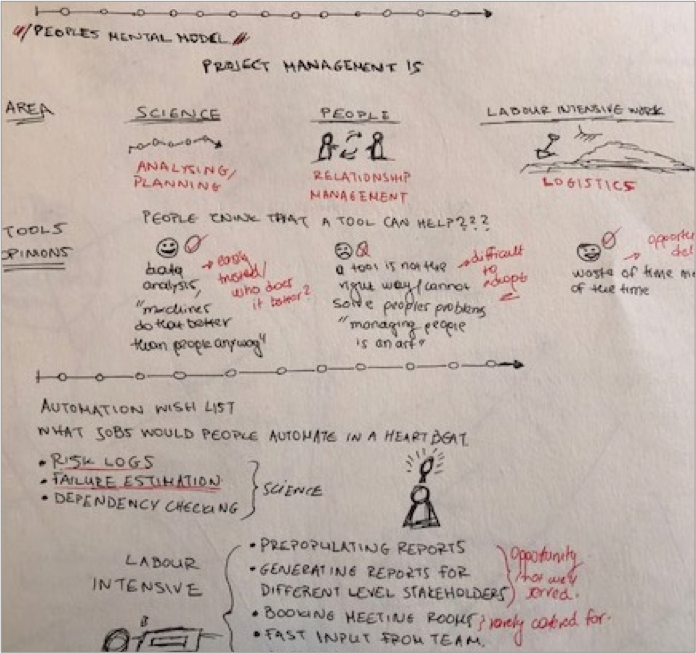 Don't worry about how your sketches look. Listen carefully & note down users perceptions & needs
The gist
Method: Go where you users are and gather insights on users' perceptions and challenges
Channel: Depending on your product & audience but good places are: Meetup, Eventbrite, organisations, chartered bodies, associations, social events related to your user group
Tools: Notepad & your smile (seriously). Be open, approachable and honest with why you are interested in hearing people out
Budget: £0-40 per event
3. Use LinkedIn to recruit & invite potential users to an interview

This technique is about DIY recruiting & selecting users in order to achieve a face to face interview. Interviewing prospective users in their own environment will truly generate the richest amount of data and you should strive to complete as many user interviews as your time and budget allows. Although I was able to use a recruitment agency in the later stages of research, to test our initial hypothesis about our users' needs I used LinkedIn, since in our case our users were under the "hard to find, expert" category. They needed to perform at a specific managerial level, have a certain experience and work on projects of a certain complexity and length. With LinkedIn, I have been able to identify profiles and secure a few interviews with great people who gave up their time for free, which gave us a better insight into their world and helped us identify the features we need to build to create more value for them.
The gist
Method: DIY user recruitment & selection
Channel/Tools: LinkedIn recruiter
Budget: £90/per month