IMY
I am Why - June 2018 Update
Let's explore the new features
Francesco | 14.06.18

We have just released the new update of I am Why, our software for visual strategic planning.
This version took a while to be designed, developed and tested, but we believe that the changes were totally worth the time. There are a lot of improvements over the previous version, many of those you won't even notice (improvements in stability and reliability, bug fixes, increased speed when you have a lot of data, etc.), others are definitely more visible and will make it easier to create and adjust your strategic plan.
Ok, that's enough chat. Let's explore together the main features introduced in the new update of I am Why!
Faster & easier bars creation
Creating new bars for high-level objectives and main activities is now easier than ever. Just click on an empty space and drag to create a bar as long as you want, exactly as you would do to create a rectangle in a graphics tool. Before this update, you had first to create a one-week long bar and then adjust its length by dragging the borders. Much better now!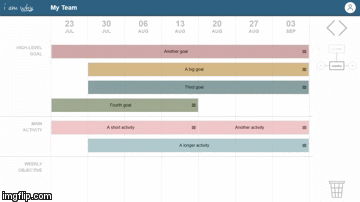 Better flexibility with improved drag & drop
This was one of the most requested features, and it's also my favourite. Now you can finally move bars around with drag&drop. Yes, not just horizontally (as in the past version), but also vertically and diagonally. You can even move a bar from a layer to another, for example from the high-level objectives to main activities. I know it might seem strange, but this feature has been a pain to be correctly implemented, since it greatly increased the complexity of the relationships among data, but in the end Paolo did a great work in making it all run smoothly.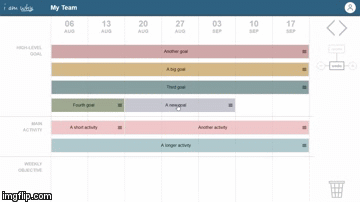 Better time control: Switch from weekly to monthly view
The standard I am Why view shows about 6 or 7 weeks only, but many users have often the need to have a look at a longer timeframe. So we've made their life easier with a new zoom control panel: with a click you can switch from the standard weekly view to a monthly view, so you can see about 6 months of planning. Another click and you're back to the weekly view. And there are always the + and - buttons for a more precise control of the zoom level.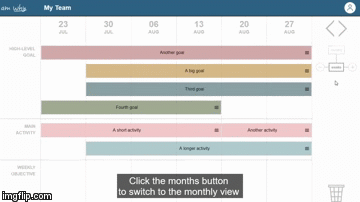 See the names of shorter bars
We hear you saying: I like to work in the monthly view, but some bars are too short to be properly read, what can I do? Worry no more, just hover on them with the mouse and you'll see their full names in a pop-up balloon! This way you can easily see your long-term plan and have everything under control.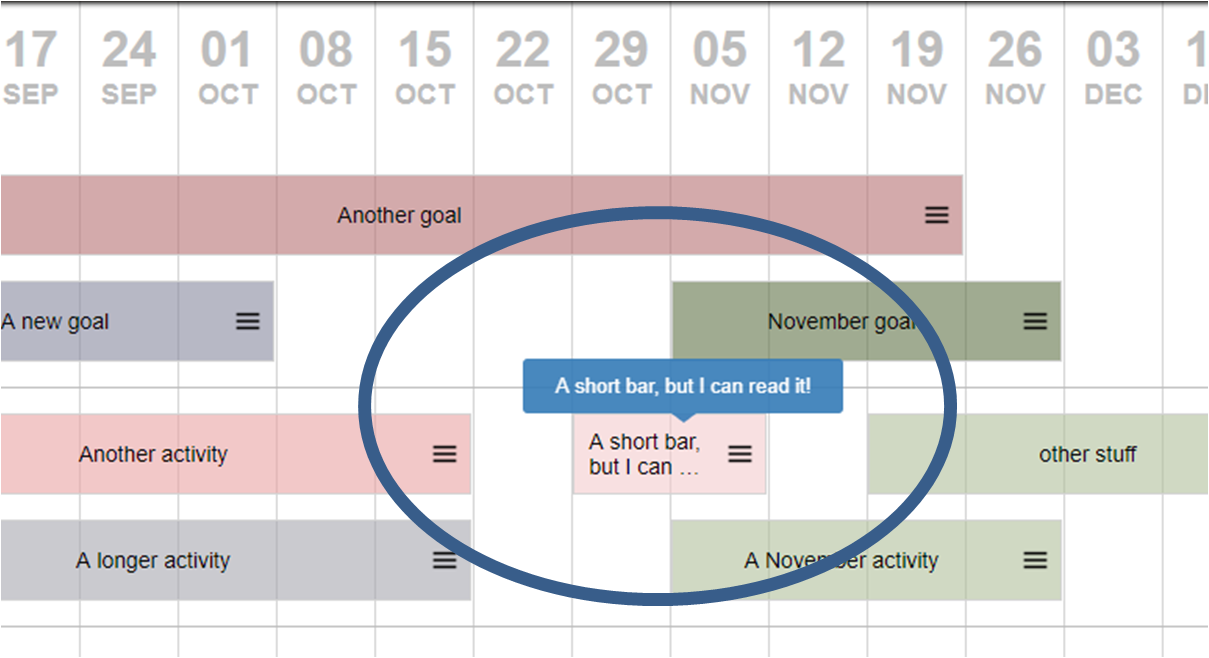 And here's the video explaining the new features: https://youtu.be/6ebr9oVaaBo
As always, if you would like to have a feature added in the next update of I am Why, or you just want to say us something, contact us at hello@mindiply.com We love your feedback!